The New Zealand Association of Medical Herbalists (NZAMH) is the professional organisation for qualified medical herbalists and naturopaths (with appropriate herbal training) in New Zealand.
As a leading authority in the herbal medicine field, the NZAMH invite organisations and individuals to seek advice on any queries relating to clinical herbal medicine, relevant governmental policies, media or education.
All NZAMH professional members have obtained a high standard of herbal and/or naturopathic education and training, and continuing their professional education is a requirement of their registration with us. That means, when you see the title, MNZAMH, after a practitioner's name you can be sure your practitioner has met, and continues to meet, our high standards.
The NZAMH offers guidance and support to New Zealand herbal and naturopathic students by giving frequent talks, affordable membership fees, mentorships for graduates, an annual NZAMH Graduate Award and discounted conference rates.
There are many benefits to joining the NZAMH and these are outlined in the Join Us section of the website, where you will find the membership requirements and a downloadable application form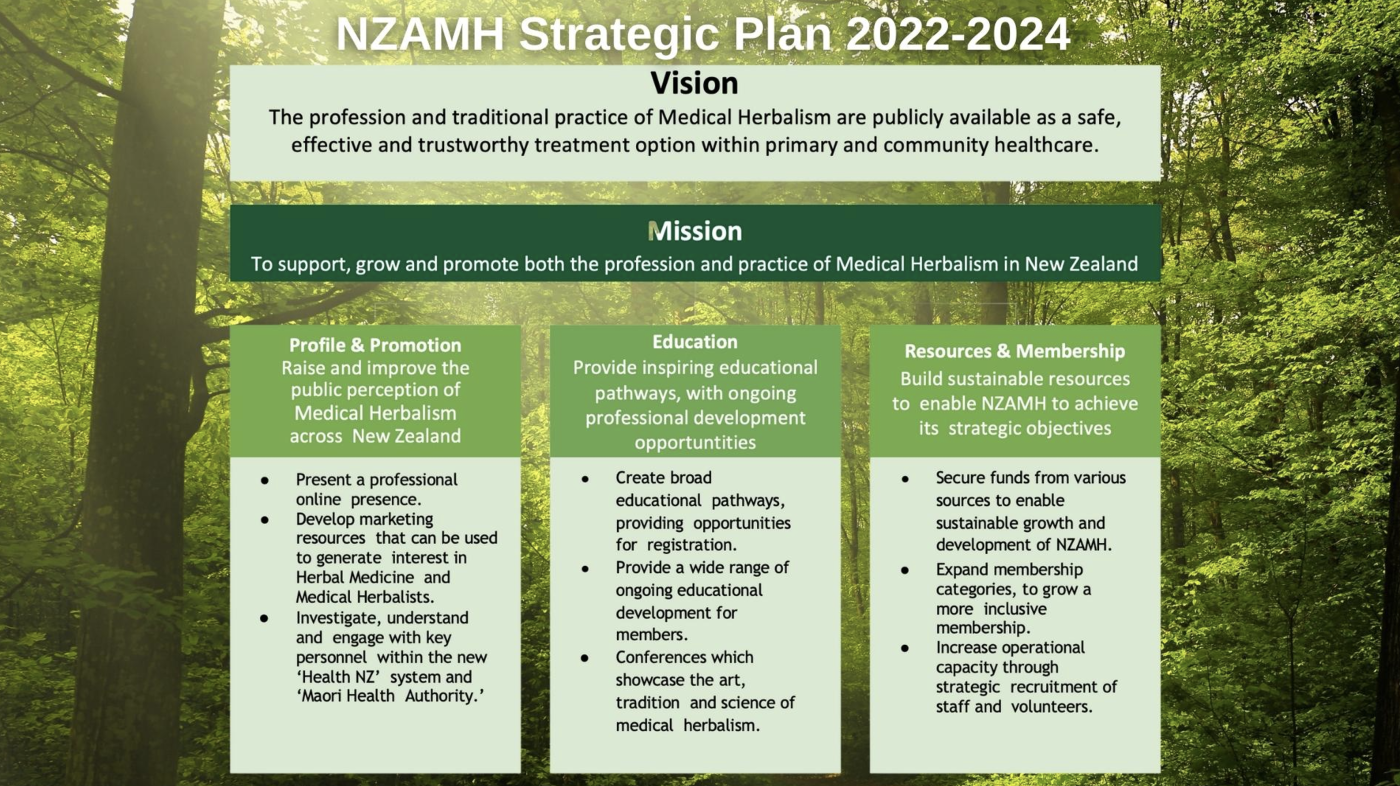 The Aims and Vision of the NZAMH


Our vision
The NZAMH vision statement is a reflection of our whole-hearted belief that the people of New Zealand would greatly benefit from having medical herbalists more available in the primary health sector.
The NZAMH vision statement is a combination of what has already been attained, with what we continue to strive for.
Our Vision statement:
The profession and traditional practice of Medical Herbalism are publicly available as a safe, effective and trustworthy treatment option within primary and community healthcare.
Our Aims:
To provide a support network for people engaged in the study and practice of herbal medicine and naturopathy.
To act as an advisory body and uphold high standards of proficiency and conduct.
To promote, protect, maintain, represent and further the professional interests of our members.
To represent members in regard to any proposed legislation concerning herbal medicine and to make submissions to appropriate authorities on their behalf.
To assist in the promotion of herbal medicine.
To encourage and provide ongoing professional education for our members.
To publish and circulate a magazine and any other material of interest.